For nearly 60 years, La Foca has worked in the Green Building sector, producing houses with timber frames by a Swedish construction school and assembling them on site. We deliver projects at different levels of finishing, including turnkey. Our production develops projects 360°: From a single-family detached villa to multi storey buildings; From schools, nurseries, sport & recreational facilities, medical centers, offices, industrial multi-use developments, etc. We work in compliance with European Community standards for construction. Our extensive experience permits us to look beyond the horizon and offer our customers solutions ad hoc – designed according to their needs, requirements, preferences, and specific local conditions.
Our team of competent engineers develops drawings using AutoCAD and Sena softs for production, and TimberTech soft for structural calculations. The wood we use is FSC Certified, and the company possesses the following ISO certificates: ISO 9001, ISO 18001, ISO 14001, ISO 50001.
La Foca's offices and production plant are based in Sigulda, 50 km from Riga, Latvia. This strategic location permits the company to benefit from local raw materials: High-quality pine and spruce wood, allowing the price of our final product to be competitive with all of Europe. Moreover, it permits easy logistics by both sea and land to the destination of a building yard.
La Foca realizes projects in Sweden, Switzerland, Belgium, Italy, France, and Latvia, where the company works in close cooperation with local architects and engineers, and has strong commercial support. Thus, we are able to provide our customers with full service and construction chain guarantees.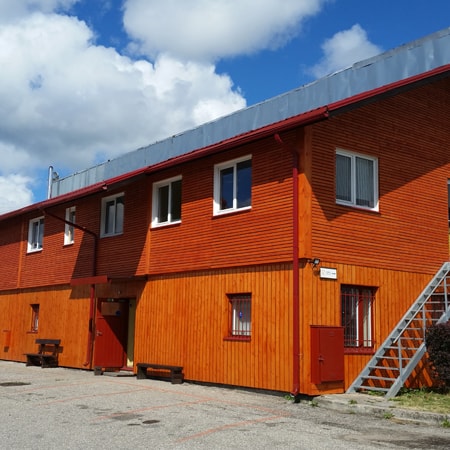 Qualities of La Foca House are:
Low Energy Consumption
Eco-friendly Materials: Natural, hypoallergenic, totally recyclable
Effective Execution – quick and economical
Swedish Construction School with Italian style
Design Using Eurocodes 1, 5, and 8
Anti-Seismic Construction – Application of normative  anti-seismic structures for buildings in seismic areas
Customized Projects Implementation at no additional cost
Over 50 Years of Experience in this special field
At La Foca, we do our work because we want to give our customers the best product: Safe, Sustainable, provides healthy living conditions, and offers significant economic benefits. We constantly search for innovative materials in order to improve the quality of our houses and hence the well-being of our customers who will live in them.
"Green" Investments in research and experimentation can create concepts that become reality for a sustainable future and a better quality of life without compromise. An individual and the community are the cornerstones on which the group's activity revolves.